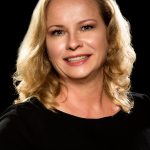 Christine O'Shea
Instructor – Ballet
Christine O'Shea received her formal dance training in Raleigh, North Carolina, from Betty Kovac, before receiving a Bachelor of Science Degree in Dance Education from the University of North Carolina Greensboro. Upon her arrival to Palm Beach County in 1984, Mrs. O'Shea joined Ballet Florida becoming a Principal Teacher and Director of Education and Outreach.
Through her outreach work Christine established many educational partnerships in the community as well as having established the nationally recognized programs.
In addition to her long stay with Ballet Florida Christine has been a part of the faculty for Bak Middle School of the Arts as well as a guest teacher
throughout the Southeast.  She is recognized in the education community as a Master Arts Integrator having consulted in numerous district and private schools collaborating with and training teachers in using dance to teach classroom curriculum.
Currently Mrs. O'Shea is a teacher of the gifted at Imagine Schools Chancellor Campus and an Adjunct Faculty member at the Harid Conservatory.  Christine, a resident of Palm Beach  County since 1984, is married with two teenage children.