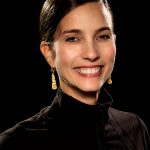 Daylena Ruiz Garcia
Instructor – Ballet
Ms. Daylena Ruiz Garcia began her training when she was three years old under the Ballet Mistress, Laura Alonso. At age 9, she received a scholarship from the Cuban National Ballet School.  She went on to obtain a Bachelor of Fine Arts degree with a major in Dance Education.
Ms. Ruiz Garcia became a dancer in 1993 and danced with "Classical-Contemporary National Company" and "Musical Theater Company", companies which supported theater productions. Her performance credits include Corsair, Don Quixote, Coppelia, Paquita, Nutcracker, Graduate Ball, and Flames of Pari and she has danced around the globe in Cuba, Thailand, Austria, Hong Kong, Italy, and Mexico.
Choreography is one of Ms. Ruiz Garcia's passions. Her repertoire includes more than thirty different solo and ensemble pieces in Cuba, Mexico, Spain, and the U.S. for which has received recognition and critical acclaim.
Ms. Ruiz Garcia began teaching at the Cuban National Ballet School in 1998 and later taught in the U.S. beginning in 2011.  Her teaching experience has centered around Louisville Ballet School, Sacred Heart School for the Arts, 360 Dance, Joann Fryer Academy, Louisville Academy, and Governor's School for the Arts, Fort Wayne Ballet, Private Students, Bluegrass Youth Ballet, Carol Colbert Dance Studio, Dance Academy of Boca Raton, and Southern Dance Theater, prestigious dance and ballet schools in Kentucky, Indiana, and Florida.
Within the last 18 years, Ms. Ruiz Garcia has earned a well-deserved reputation. Her students have gone on to successful careers in major dance companies worldwide, including Cuban National Ballet, English National Ballet, Royal Ballet, Sarasota Ballet Company, Hungary Opera Ballet, Orlando Ballet, Tulsa Ballet, Louisville Ballet, The HARID Conservatory, Milwaukee Ballet, Ballet Du Capitole, South-Africa Ballet Theater, American Ballet Theater II, Mexican National Company, Laura Alonso Ballet Company, Barcelona Dance Company, Dance National of Cuba, Chile National Company, Milwaukee Ballet, Columbia Classical Ballet, Lima Municipal Ballet, Monterrey Ballet, The Arts of Classical Ballet, Center of Arts and Dance in Alcala. Ms. Ruiz Garcia's students have successfully competed in prestigious international dance competitions such as Cuban International Competition, YAGP Competition, Mexican National Competition, Attitude International Competition, and Barcelona Dance Competition.