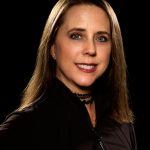 Stacy Marzullo
Instructor – Ballet Basic, Jazz/Tap Basic, Jazz
Stacy has been dancing since the age of seven, training in ballet, tap, and jazz. While in high school, she danced on scholarship at Joe Tremaine's in Hollywood, CA, and also received a Fine Arts recognition from Eastern Washington University. Other jazz artists she has studied with are Doug Caldwell, Gus Giordano and Luigi.
Some of Stacy's professional career credits include performing with The Greg Thompson Follies aboard the M/S Song of America, with Dennis Levinson Productions at Harrah's in Atlantic City and a Tribute to Broadway in Miami Beach. Her TV credits include a national commercial for RCCL and as a featured performer for the Miss. WA. USA Pageant. Along the way she has been blessed with the opportunity to meet many star performers such as Ben Vereen, Sammy Davis Jr., Rita Moreno, Suzanne Summers and Linda Carter. Stacy is currently the Dance Team Director for St. Marks Catholic School and the Dance Enrichment Instructor for American Heritage in Delray Beach.