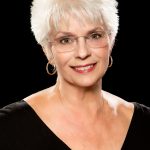 Cheryl Cimilluca
Office Administrator
Cheryl Cimilluca began her long standing association with Penni Greenly and Southern Dance Theatre in August 1983 when she signed her daughter Lori Cimilluca (now Morales) up as one of the very first students of this brand new studio.
She has seen Southern Dance grow from a one room rental in a strip mall to a free standing building with three studios, student and staff lounges, a lobby with TV monitors, and private offices for the Artistic Director, Penni Greenly, as well as for herself!
Cheryl has worked in the office since 1991 and considers Southern Dance Theatre a second home and not just a job. In fact, she is considered the studio "Mom" due to her wealth of information, not only for the operations of the business, but as a parent of a former professional performer.
Cheryl loves sharing with students and their parents the "nuts and bolts" of becoming a dancer. It has been a real joy for her to see the 2nd generation of students find their own passion for dance and be able to say, "I remember your mom in class"!
She has formed many lasting friendships with parents and staff. Cheryl is especially grateful for Penni Greenly and their special relationship.