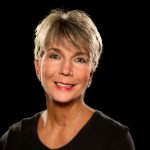 Jean Louisa Steele
Tap Director, Southern Dance Theatre; Director, Dancer's Edge Company; Assistant Director, Special Arts Ensemble; Instructor – Tap, Jazz, Pre-Combo, Jazz/ Tap Basic, Dance Movement
Jean Louisa or "MisWesa" as students know her, began her early dance training at age 4 in Charleston, South Carolina. At her family's school, Dance Unlimited Studios, Jean Louisa was her mother's assistant and began traveling to study with professional instructors and choreographers from all over the United States. She has trained with Luigi, Gus Giordano, Joe Malone, Joe Tremaine, Frank Hatchett, and Mia Michaels.  She considers her training with tap dance legends Al Gilbert and Henri LeTang the most rewarding experiences of her career.
Professionally, Jean Louisa has danced in the mini-series Queen, served as the choreographer for the Showtime Movie They Watch, and was dance consultant on the remake of the classic The Yearling.  All of which were filmed on location near her hometown.  Jean Louisa was choreographer for Miss South Carolina USA Pageant for 3 years and Miss North Carolina USA Pageant for 2 years.  She has also choreographed and danced in numerous local and regional theater productions in the Carolinas.
"MisWesa" has her certification from the SC Arts Commission to teach, direct, and choreograph in any state supported fine arts program.  She has worked as Dance Artist in Residence in dozens of elementary, middle, and high schools. From 2001 to 2004, she taught for the Project Artistic Fine Arts Grant program as well as other fine arts programs such as the SC Creative Teaching Institute and the Piccolo Project in conjunction with Spoleto the Festival of Two Worlds.
Since moving to Florida, "MisWesa" has taught for Bravo! Academy for Performing Arts, Summit Montessori School, Unity School, S.D. Spady Elementary School, Palm Beach Ballet Center, and will begin her 6th year on the distinguished faculty of Southern Dance Theatre as the Head of the Tap Department and Director of the Dancer's Edge Company C. She also serves as the Assistant to the Director of The Special Arts Ensemble.