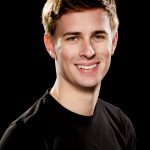 Joseph Jehle
Instructor – Ballet, Jazz
Joseph Jehle began his dance training at age 10 at June Claire Dance Center located in Long Island, NY under the direction of June Loesch and Lynda Gache ́. It was there that Joseph truly discovered his love of dance in ballet, tap, and jazz and eventually venturing into other styles of dance including lyrical, contemporary, and modern. In 2009, Joseph was brought onto the June Claire Staff where he taught ballet, lyrical, jazz, contemporary, and modern. While on staff Joseph also had pleasure of being an assistant to choreographer Llyod Culbreath. Joseph also had the opportunity of teaching at JCC of the Greater Five Towns, a community center on Long Island.
Joseph graduated from Hofstra University in 2011 with a Bachelor of Arts in Dance Performance where he received several dance scholarships, including being the first recipient of the Lance Westergard Senior Dance Scholarship. It was at Hofstra that Joseph continued with his ballet and modern training and had the privilege of working with a highly talented faculty as well as many guest choreographers. Several of the choreographers Joseph had the opportunity to dance for currently direct New York City-based companies, including Robin Becker and Amy Marshall.
Joseph had the honor of performing as a featured dancer for Robin Becker Dance in an evening length dance work titled "Into Sunlight" inspired by Pulitzer Prize-winning journalist David Maraniss' powerful book on the Vietnam War, They Marched Into Sunlight. Joseph danced in the premiere of the work in 2011 at the University of Wisconsin in Madison as well as at Hofstra University. Later performances in 2012 included Georgetown University and the 92nd Street Y in New York City.