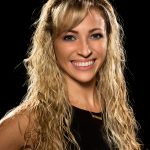 Kerri Fouchet
Instructor – Pre-Combo, Hip Hop, Tap
Kerri Fouchet began her dancing career at Southern Dance Theatre at the age of 5. She was trained in ballet, jazz, hip hop, tap, pointe, modern, and leaps and turns. She was a member of the Dancer's Edge Company for seven years and was captain for two of them.
Kerri received her Bachelor of Science degree from Florida State University in May 2014. She was on the competitive dance team, Seminole Dance Force, for four years where she served as captain for two years. Her team was self run and competed nationally at National Dance Alliance. The dance team has been ranked in the top 10 in the nation and #1 in Florida competing in both jazz and hip hop. After two years on the team, she brought them from a student organization to a university sponsored sports club team. As a member of her dance team, Kerri also choreographed, costume designed, and was treasurer.
For the past two years Kerri has assisted with Ms. Wesa's Rhythm Rascal's dance program. Ms. Fouchet will join the faculty and be teaching Pre-Combo 2, Hip Hop, and Tap. In addition to beginning her teaching career at Southern Dance Theatre Kerri will also begin her career as a high school math teacher.