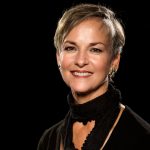 Penni Greenly
Artistic Director, Southern Dance Theatre; Administrative Director, The Dancer's Edge Company; Director – Special Arts Ensemble; Instructor – Ballet, Jazz, Dance Movement
Penni Greenly is the Artistic Director of Southern Dance Theatre and Administrative Director of The Dancer's Edge Company.  She and her mentor, E. Joan Miller, of the Palm Beach Ballet Center co-founded Southern Dance Theatre in 1983.  Ms. Greenly attributes her passion for dance to Genia Howard, her first dance teacher, who introduced her to a world that would become her destiny and life.
Ms. Greenly began training at the Palm Beach Ballet under the tutelage of Joan Miller who greatly inspired her to teach and choreograph.  While studying ballet, jazz, and modern Ms. Greenly was instructed by Joan Miller, Benedict Chamby, Joyce Straub, and Brenda Gooden.  Later, she privately trained with Debbi Dee in tap and took class with Jim Franklin to further her jazz training.
Ms. Greenly was a dancer with The Palm Beach Ballet Company and a featured jazz soloist in "Praise the Dance," choreographed by Tuttle and Skinner from Dance Alive.
Ms. Greenly's quest was always to become a teacher and choreographer of excellence.  She is noted for her innovative, award-winning choreography which has been seen in The Macy's Day Parade, Miami Dolphin Half Time Shows, WXEL Special, Commercials, and international dance competitions in Japan. It was her belief that dance could and should be taught to everyone.
In 1979 Ms. Greenly was Dance Director of The Conservatory of Arts for Handicapped Citizens which was founded by her mother, Yolanda Greenly, and based at Palm Beach Community College.  She currently directs The Special Arts Ensemble, a division of The Dancer's Alchemy, at Southern Dance Theatre.
From 1979-1982, Ms. Greenly co-directed the national champion dance team, Atlantic High School Eagle-Ettes.  In addition, she taught a pilot dance program for high-risk students which aimed to improve reading scores with great success.  She hosted the first free after-school dance program for ESOL students in the 1980s as well as developed and taught a ballet class as cross-training for agility, coordination, and timing for the football team at Atlantic High School.